Safe Mercury Amalgam Filling Removal – Millburn, NJ
Protect Your Health And The Beauty Of Your Smile
Dr. Gashinsky and the Holistic Dental Center New Jersey team are committed and dedicated to ensuring your optimal oral health and wellness using the safest Mercury Amalgam removal techniques. Book an appointment today to remove your toxic mercury fillings and protect your oral health!
The Peace Of Mind Of Removing Mercury Fillings
More and more people consider mercury removal from their teeth, and for good reason. Mercury is one of the most toxic substances in the world and causes health hazards. The Mercury amalgam fillings are made up up 50% mercury, 35% silver, and 15% copper, nickel, tin and other metals.
Mercury vapor is continuously emitted from dental fillings, accumulates in the body over time and is harmful to the environment. After an amalgam filling is taken out of a patient's mouth, it is treated as hazardous waste, but somehow, when it is in the patient's mouth, it is not.
Safe Dental Amalgam Removal, also known as Safe Mercury Removal or Safe Silver Filling Removal, is a procedure to remove toxic mercury containing fillings from your mouth. Because mercury is toxic and dangerous, this process must be done by a S.M.A.R.T. certified Dentist using the proper techniques for safe amalgam removal to keep you in good care throughout the procedure. Dr. Vladimir Gashinky's New Jersey holistic dental practice carefully follows the advised protocol for proper removal of mercury fillings.
If you are living with dental amalgams in your mouth and you want to pursue a non-toxic, mercury-free alternative, choose Holistic Dental Center New Jersey to safely remove your toxic mercury amalgam fillings!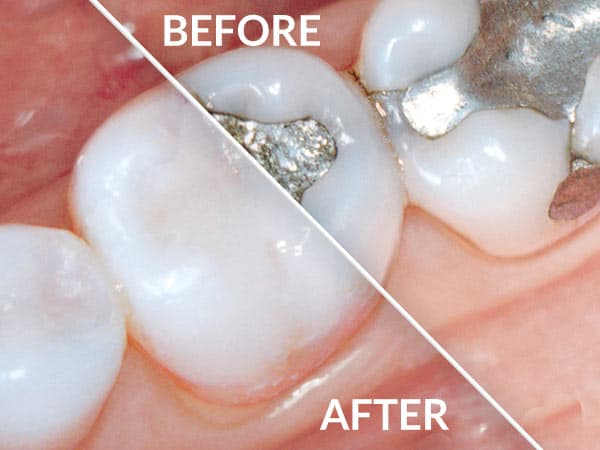 Our Safe Mercury Amalgam Removal Protocol
The procedure to remove amalgam fillings is performed with all proper safety precautions as recommended by the IAOMT's S.M.A.R.T protocol because your health and safety as well as that of our staff members are of utmost importance.
The actual removal process itself is done in an efficient and effective manner using protective barriers and external air filtration systems to avoid prolonged potential exposure to mercury vapor and particles. Once the removal process is complete all barriers are removed and the dental appointment will continue with the restoration process utilizing biocompatible materials that are gentle to the body.
Before, during, and after your mercury amalgam removal you will be offered varying degrees of supplementation to bind mercury that may have potentially been introduced during the removal process ranging from herbal supplements to IV therapy. All the precautionary supplements we recommend are safe and effective and we will work with your medical practitioner if needed and support your post-removal detoxification process with them.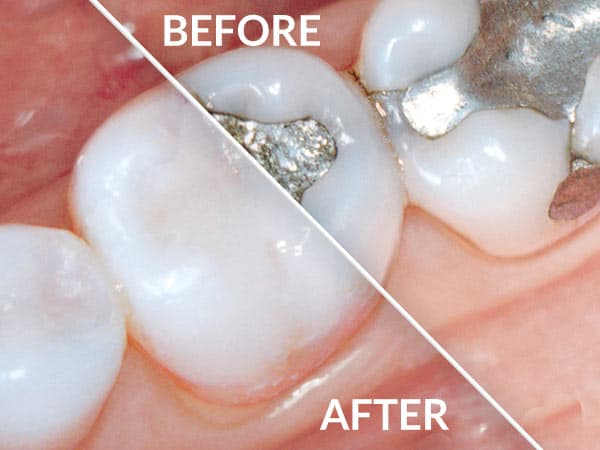 The Dangers Of Mercury Exposure During Amalgam Removal
If you elect to have your mercury fillings replaced, it is important to choose someone who has extensive experience in safe mercury removal. Here at the Holistic Dental Center we have over 20 years experience serving the tri-state area and beyond. We at the Holistic Dental Center care about you and your health. That is why our office is committed to mercury amalgam removal protocols that protect both patients and staff during the removal process. Contact our office and schedule an appointment with our highly skilled team of practitioners.
What Holistic Dental Patients Are Saying
I recently had six old "silver" dental amalgams removed plus periodontal work and Dr. G's staff was amazing. Efficient and gentle; and they talked me through every step of the procedures and follow up protocols to make sure my body would be exposed to the absolute minimum amount of freed mercury during the filling removals. This is definitely not your average old-school dentist's office! Worth every penny.
Dr.G and his team of experts at Holistic Dental Center are not only welcoming and knowledgeable but kind as well. I had four amalgam fillings replacements and one new filling over the course of 2 weeks. I've never had great experiences with Dentistry work but they talked me through the entire procedure, they made sure I was comfortable and made sure I wasn't in pain. The holistic approach to Dentistry is new to me so I was excited yet nervous however I finally got my mercury fillings out of my mouth and I feel great.
Schedule An Appointment To Get Your Mercury Fillings Removed Today!
Come In And Experience the Holistic Dental Center Difference For Yourself